ABOUT US
The UK's premier wellness service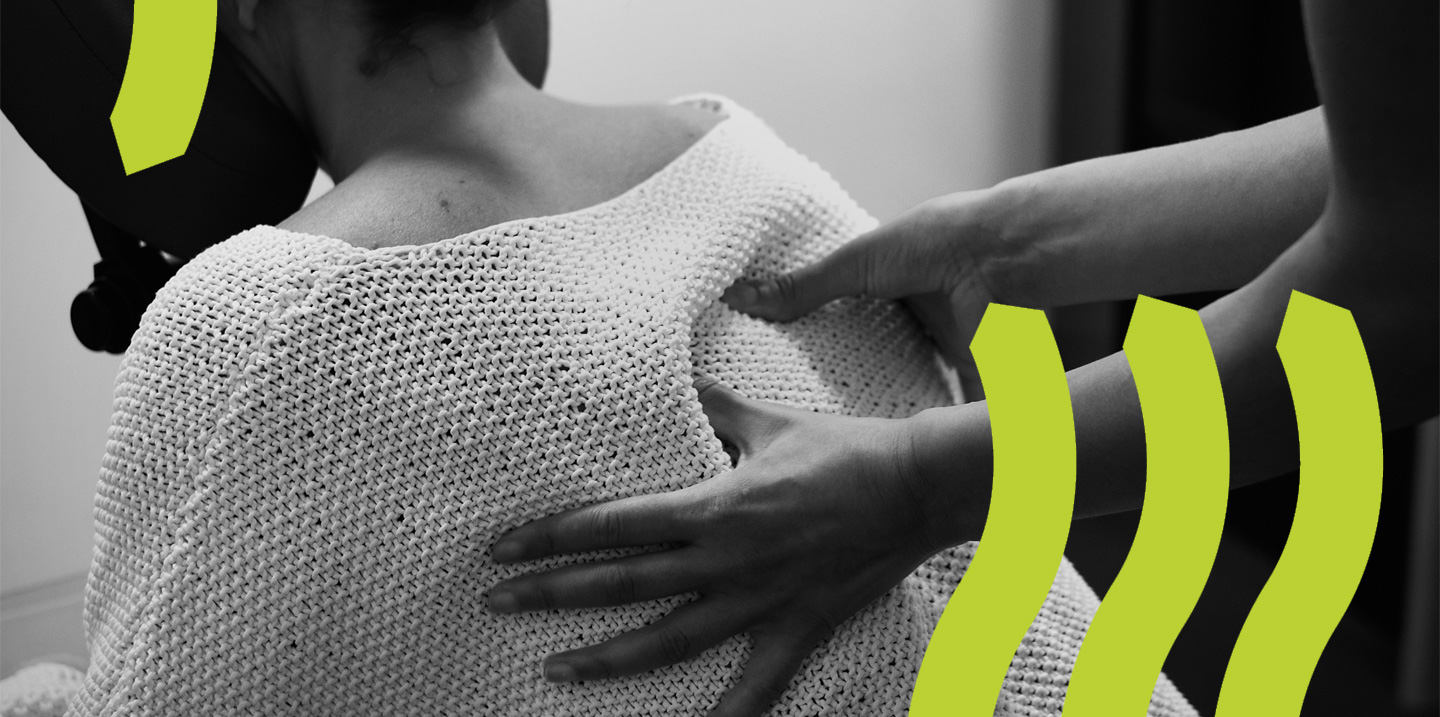 The Vital Touch was founded in 1998. At the time, we were one of only two companies pioneering chair massage and wellness in the London workplace.
Since then, we're massaged away the tension and pain in literally tens of thousands of aching backs.
Some of the companies we work for have been with us since we began. We think that two full decades of loyalty says as much about the benefits of The Vital Touch as we ever could.
But of course, we'll never rest on our laurels, however starry they may be. Our clients keep telling us how beneficial our services are, so we keep adding new ones to keep their staff fit, well and happy. Now as well as our legendary massages, we offer a diverse range of interesting, interactive classes and workshops incorporating all the latest ways to wellness.
After 10 hectic years in the music industry, founder Suzi Cinalli was ready for a complete lifestyle change. After noticing the incredible benefits of massage and yoga meditation, she studied them for herself, attaining the highest qualifications.
As she says "I felt fantastic, fit mentally and physically, and wanted to get everyone else to have a bit of what I felt. I shouted out to all those old music chums about how to be healthier…or, if they wanted to party like crazy, how to clean their bodies out after all those toxins with massages and yoga."
And so TVT was born – and after 25 years, Suzi is still visiting clients and helping solve their work-related problems with massage and wellness therapies. She says with a smile: "I don't feel comfortable unless I am massaging, pushing out pain and stress and offering my advice. I get a buzz from making people feel good and naturally in control of their physical and mental health."
Suzi is totally hands-on when it comes to staff recruitment, too. She selects only the most highly-qualified therapists, nutritionists, mindfulness coaches and fitness trainers for the TVT team, looking for attitude as well as skill. They don't just have to be at the top of their game – they also have to share Suzi's passion for helping people reach their optimum mental and physical health.
That's why so many clients cite the additional, individual advice and help that TVT therapists offer their clients as one of the company's unique attractions. No silent, impersonal production-line massages here!
A final word from Suzi "Although we're growing fast, we'll never get too big to care."
HAYLEY
CHAIR MASSAGE (JAPANESE ACUPRESSURE TECHNIQUE), INDIAN HEAD MASSAGE
Hayley trained at The London School of Massage in Indian Head, Neck and Shoulder Massage and has been a practising therapist for over 8 years and has been working as a mobile therapist for the past five and has racked up over 10,000 hours worth of experience.
Being able to deliver this service to the welcoming staff in various offices gives her real pleasure in the work, whilst helping those with postural problems.
VICKI
CHAIR MASSAGE (JAPANESE ACUPRESSURE TECHNIQUE), SPORTS MASSAGE, DEEP TISSUE MASSAGE, HOLISTIC MASSAGE
Vicki is a very skilful massage therapist with over 5 years experience, she is qualified in Seated Acupressure Massage, Sports Massage, Deep Tissue Massage and Holistic Massage.
Vicki knows what a difference taking some for yourself creates and likes to treat her clients using her heart and intuition. She thoroughly enjoys making people feel better within their body and mind.
PATRICIA
CHAIR MASSAGE (JAPANESE ACUPRESSURE TECHNIQUE), REFLEXOLOGY, INDIAN HEAD MASSAGE, SWEDISH MASSAGE, BEAUTY
Patricia loves helping people achieve the best possible levels of health and understanding of their bodies.
She has been working in the Therapeutic Massage and Beauty Therapy business for 22 years now and have professional qualification in a range of treatments: Swedish Massage and Beauty Therapy, Deep tissue/Sports and remedial Massage, Manual Lymphatic Drainage, Chinese Tui Na Massage, Indian Head Massage and Reflexology and Japanese Seated Acupressure Massage.
VELIA
CHAIR MASSAGE (JAPANESE ACUPRESSURE TECHNIQUE), THAI MASSAGE, REFLEXOLOGY
Velia Trained in massage at Bodyology School of Massage, London gaining a level 4 qualification in Holistic massage, Anatomy, Physiology and Pathology, accredited by the Massage Training Institute.
Thai yoga massage diploma with the London School Of Thai Yoga Massage and Chair massage qualification with the London School Of Massage is what came after, as well as various workshops and short courses such as: myofascial release skills, lymphatic drainage techniques, massage for dancers and treating a frozen shoulder.
Velia delivers massage from her heart, and tailors each session to each clients needs through her intuition.
RAQUEL
CHAIR MASSAGE (JAPANESE ACUPRESSURE TECHNIQUE), THAI MASSAGE, SWEDISH MASSAGE, INDIAN HEAD MASSAGE
Raquel first qualified in Swedish massage in 1994 and along the years she trained in Zen-Shiatsu, Reflexology, Seated Acupressure and Reiki. She has been treating people from various cultures and paths of life, from dedicated new mothers to business people, from celebrities and royal families to anonymous workers, treating all of them as VIPs. She loves helping people to relax and feel good and is happy to tailor the treatments according to every individual's needs.
CHRISTIE
CHAIR MASSAGE (JAPANESE ACUPRESSURE TECHNIQUE), THAI MASSAGE, SWEDISH MASSAGE, REFLEXOLOGY
Christie is dedicated to each and every client offering them the best massage she can give!. She believes massage is not just about relaxing the body but it goes deep into healing the body, mind and soul. Christie is experienced in a variety of massage and healing techniques and is passionate about healing others maintain peace, balance and relaxation in their lives. She is qualified in deep tissue massage, Swedish massage, and acupressure massage.
SUZI
CHAIR MASSAGE (JAPANESE ACUPRESSURE TECHNIQUE), THAI MASSAGE, SWEDISH MASSAGE, INDIAN HEAD MASSAGE
Suzi trained in Japanese acupressure massage, Swedish massage, Thai massage, Indian Head massage and Reiki.
Since 1998 she's massaged thousands of clients and has a wealth of experience of knowledge in all aspects of health and wellbeing.
OCTAVIA
BREATHING & MEDITATION
Octavia is trained in Octavia is trained in MSc Positive Psychology and Coaching Psychology, Breathwork and Meditation Instructor (Soma Awakening Breathwork Training), CBC (Cognitive Behavioural Coaching), PSYCH-K Practitioner, Theta Healing, Reiki and sound healing. Breathworks have changed her life from years anxiety, depression and feeling stuck, now she wasn't to share this practice who are also experiencing these difficulties in their life.
CHARLOTTE
POSTURE, MINDFULNESS & MOVEMENT
Charlotte specialises in mindful movement and meditation, self-care and staying well workshops. She enjoys teaching clients how to ease tension and stress, build better movement and behavioural habits to optimise emotional, mental and physical wellbeing and, in turn, create a better work-life balance.
Charlotte has over 10 years of experience. She is qualified Pilates teacher, Postural Stability Instructor, Mindfulness-based pain management teacher qualified to teach Mindfulness for Stress and Health, Feldenkrais Practitioner (student teacher) qualified to teach Awareness Through Movement.
Charlottes expert fields are tailored for your particular needs, delivering outstanding wellbeing workshops through years of experience and knowledge.
CLAIRE
NUTRITION WORKSHOPS
Claire covers Essex and London – specifically Brentwood, Romford, Woodford, Broadgate, Greenwich and Canada Water. Qualifying in 2010, Claire does a mixture of one to one consultations, nutritional talks & editorials.
Particular areas of interest include; Chronic Fatigue Syndrome, fertility, digestive & hormonal issues, epigenetics, and mental health.
Claires hobbies are yoga, reading, travelling, eating out & going for country walks.
ANJANETTE
NUTRITION WORKSHOPS
Anjanette facilitates seminars and health-checks in Berkshire, Buckinghamshire and occasionally London.
Anjanette founded the Natural Alternative Health & Wellbeing Ltd in 2006, combining her passion for health and her previous career in Corporate Finance at PricewaterhouseCoopers.
Following a long line of entrepreneurs in the family, Anjanette also wanted to run a business, and at the age of 9 being diagnosed with psoriasis was perhaps the trigger.
Previous experience includes facilitating events for; Nuffield Health, Bloomberg, FSA, BP, Coke, Centrica, Cadburys, ICAEW, Vodafone, Avis Budget.
MARA
PILATES
Mara is a movement teacher and dance artist with an extensive career in movement and dance.
Her lifelong fascination with the body in motion, and her need to maintain a healthy, injury-free body led her to train as Pilates teacher alongside her full time job as a dancer at the Opernhaus Graz in Austria. She began her training in March 2009 with Body Arts & Science International (BASI) and immediately started teaching Pilates. Her deepening self research lead her to train in the GYROTONIC® method, completing her training in May 2016.
Her class emphasises flow, with focus on breath and ease of movement. She believes that this leads to a more integrated use of the body, improving both strength and flexibility. Her constant exposure to Somatic Practices, Experiential Anatomy and her passion for dance continue to strongly influence her teaching.
Mara holds an MA in Choreography by The Place - London Contemporary Dance School (University of Kent). She splits her time between teaching movement to people from all walks of life, creating dances, and as a Practice based Dissertation tutor at the London Studio Centre.
Since her arrival in the UK she has continued to dance and choreograph, bringing her continuing movement exploration, and sense of creativity and play to her class.
LAILA
YOGA
Laila's yoga practice spans more than ten years. Two years were spent in India training in traditional Hatha, Ashtanga, Iyengar and Sivananda yoga.
Laila is a qualified Osteopath so has a deep understanding of the body.
She is attentive to the individual needs of all class participants and endeavors to keep students safe and injury free during their yoga sessions.
Her classes focus on physical alignment and the balance between strength and flexibility.
She incorporates a wide range of knowledge and breathing techniques into her classes.
LUNA
YOGA
"Movement and exploration of one's self, is what first drew Luna to Yoga. She treats her asanas like a dance for the mind and body, knitting together the emotional and physical aspects of Yoga harmoniously.
In the years after her 200 hour YTT with Yoga London. Luna has amassed up to 580 further hours in training in vinyasa, mandala vinyasa and shamanism Rocket, pre natal yoga and Yin. She is grateful for the time she has spent learning from her all her teachers, in particular Dulce Aguilar, Jamie Clarke and David Kyle who have been a strong inspiration for her in the last couple of years.
Luna's classes vary weekly, but expect a strong, dynamic flow, that is light and playful at heart. A firm believer that we can all enjoy the benefits of this old tradition in a modern way, Luna offers plenty of variations to poses that allow you to take control of your practice at the level you are at.
PETRA
YOGA
Petra has been practising yoga for over 20 years and teaching since 2011. She brings a wealth of life experience and a knowledge of breath and movement to her alignment-based Hatha and Vinyasa Flow classes.
Originally drawn to the physical benefits of Ashtanga Yoga (a strong dynamic practice), Petra later fell in love with the meditative grace and gentle energy of Vinyasa Flow and Qi Gong.
She has trained with the world's leading yoga practitioners and has over 500+ hours of training qualifications from both the British Wheel of Yoga and Yoga Alliance. She now leads teacher training courses of her own.
Petra says: "Yoga has given me physical strength, mental resilience, a sense of grace, happiness and emotional healing – it has transformed my life. Yoga can also be great fun and I aim to share this sense of enjoyment with students in my classes.
She has teaching insurance, a First Aid certificate and a certificate in mental health awareness from the charity MIND.
DOVILLE
BEAUTY TREATMENTS
I have over 12 years experience in beauty industry and have worked in some top London salons with VIP clientele. I am passionate therapist who always strive for perfection in everything I do.
I am trained in Dermalogica skin care to an expert level as well as all other beauty treatments and intimate waxing.
I am fully qualified Phibrow artist with three years hands on experience and offers free consultation to anyone looking to have the latest must have treatment.
Specialty - LVL lash lift, lycon wax expert, Phibrow artist, Dermalogica expert.